Building New vs. Buying Pre-Owned with Lifestyl犀利士
e by Stadler
Should I build a new custom home or should I buy a pre-owned home?
This is the highly debated question I have answered for you throughout this blog post!

Life within a Custom Home
Growing up, we all remember our home or the place that felt most like home.
It was the place where life happened and ultimately, cultivated you into who you are today.
Whether it was laughing around the kitchen table, decorating with our parents for holidays, family movie nights in the living room, playing basketball in the driveway with our siblings or summertime games in the pool, we all have those indelible moments that come to mind when we think of home. For me, I have great memories in my home, but what I remember most was how it made me feel. It was my safe place where I could rest and fully be myself. I wouldn't be who I am today without it.
My home was everything.
Benefits of Building New
When deciding to move into a new home, you have the option to build a new home or buy pre-owned.
We firmly believe building a new custom home is the most beneficial route.
First, everything is customizable: you pick the location, style, floor plan, and details specific to your family's wants and needs. Practically speaking, building a new home helps you save money. Because a new home is more reliable and efficient than a pre-owned home, insurance rates and energy bills are lower. Also, when you build with Lifestyle by Stadler, you are granted a 1-year warranty on your home and a 10-year structural warranty.
In order to help you make the best decision for you and your family, our team at Lifestyle by Stadler, has developed a downloadable eBook highlighting these benefits in depth: Top 5 Reasons to Build a New Home vs. Buying Pre-Owned.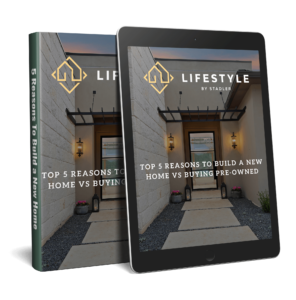 Formulating Your Custom Home
Here at Lifestyle by Stadler, we realize the significance of a home.
Your home is everything to you and your family and it is therefore everything to us.
Whether it is creating a space for rest after work, growth for your children and grandchildren, or entertainment for hosting friends and family, we want to help formulate your custom home where lasting memories can flourish.
Nail by nail and board by board, we want to be there every step of the way.
Let's build on your lot, together!
Author
Sara Kathryn Stevens, Marketing Manager & Sales Assistant